The Short Story Behind "In Memory Of Pets "
I'm John E. Mingo Sr., Born in Portland, Maine in 1949 and now, from 1970-2003 lives in Belmont, New Hampshire and now Manchester and this Story is about how and why I started
"In Memory Of Pets "
In 1990 things seem to be going along okay. We had three puppies, Cocker Spaniels. Toby our male, Buffy a female and Candy a female. We all worked, liked most folks. Always trying to get ahead and pay the bills. As time went on, like most pet lovers today, our dogs are a big part of the Family. Nothing real special, we just treated them good.
To me I love all animals, but really never took time or had time to get close to the dogs. I'd let them out, feed them, bring them to the Vets and played in between the 8 to 14 hour days at work. Buffy, seemed to like my wife and didn't hang with Toby and Candy much. Toby and Candy, always seemed to want to sleep in our bed at night. Of course during the night Toby would jump down. Candy would curl up on my pillow, next to my head every night. A habit she got into, starting at a young age. To me, it was just another normal thing.
New Years of 1991, I had chest pains and ended up with Triple by-pass. This started a Chain reaction in our life's that's ended where we are today. I worked at Coca-Cola from 1970, after leaving the Marines and even after missing work for a year after my surgery, I was able to return to normal work.
From 1991 to 1995 I had a total of 8 Heart Attacks, but things seemed to be okay and with rehab, I was able to return to Coca-Cola each time. So our family's life was little messed up. But things seemed to be okay.
I fell behind in bills and things. But, still was able to go back to work! Then May 1996, my first stop of the day (delivering Coca-Cola), it started. These pains were really more then I had before and I was rushed to emergency room. This time I ended up with a " stent " placed in the Heart area. I figured things would be okay and back to work I'd go.
Well not this time, after 25 years, Coca-Cola said no way and they had to let me go. Unless the doctors said okay. My Heart Doctors all said, its time for me to rest, no work, unless Coke had a job to meet their guide lines. They didn't and everything fell apart.
Bills , bills and more bills.
I turned into a crying baby. I complained all the time. Thinking that Life's just not fair and why did I have live through those Heart Attacks and deal with this? I complained so much, my family got sick of it. (Not that I blame them).
Then one day, after everyone went off to work. A odd thing happened. I was sitting at the computer and surfing around the Internet. Complaining and talking to myself, and Candy came over and sat near me. Looking at me, she put her paw on my leg. Well, I figured it's time to go do her "thing" out side. The other dogs went out, but she wouldn't leave my side, unless I went out with her. She would follow me every place. I couldn't turn without her being there. If I sat in a chair to watch Television, she would jump up on and curl up in my lap. As Time went on, she turned into a Special Friend.
She would listen to me, no matter how upset I was, she would try her best to make me smile. Between the cute things she did or just laying her head on my leg. It was as if she was saying, she understood me and things will get better.
For 17 months she did this. She gave me 100% of her Time, Love, Happiness and Understanding. Most important, she saved my life. Turning my feelings and heart into someone who cares about Life and not thinking "Why didn't I die with all those Heart Attacks". That Love and Understanding is worth more than money can buy and having a disability is just another way of life.
I still took time with all 3 of them. Being home so much, we had more time to play outside, walks and had great times. Then Oct. 1997, Candy got sick and we found out she had cancer and only had a few years left. But, those 2 years turned into a week.
Like night to day, she went down hill fast. We tried a last chance effort to save her with surgery, but she never left the recovery room.


What was left of my Heart, on Nov. 8th 1997, went with her.

The whole family really got messed up and things looked worse than in 1996 when I first lost my job. It didn't take me long, ( thanks to Candy ) to want to pay her back for what she did for me. I started "In Memory Of ", as a Tribute to my "Candy" for all the Love, Understanding and Happiness she gave me.
A short time went by, when other folks dealing with a Loss, sent e-mail and asked if I could place their Loved ones on my site. Knowing what "Candy" did for me and the Pain and Grief I was going through with her Loss. I opened "In Memory Of Pets " to the world. I offered what "Candy" gave me, to everyone! So others can show their Love and feelings for their Loved Ones (pets), so they don't have to Grieve Alone and may find some Help and Comfort in doing so.
In 1999 I met two very Loving folks. Ken and Carole Miller, who in time with their Loving support and very large Heart became my partners and has helped bring "In Memory Of Pets" to where it is today.
Now in 2003 into 2004 has brought another chapter into my life. My family and I have parted and gone our own directions in Life. In Life, no matter how we may live and what our Hearts may feel. Sometimes a side step in life changes everything. With good and sad memories with in my heart. Has left me with a broken Heart in many ways. Poems> "Feelings From a Broken Heart". The poem book I wrote coming out soon.
I'll always hold the Love and bond that "Candy", "Buffy" and "Toby" has given to my Life. Their Loving Memories will live on forever! Now in Life I share my Love and time with all the Loving memories of my past and new memories as they happen. With my new part of my family: Angel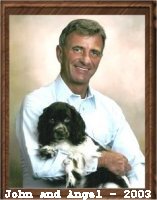 Angel
----------------------------------------------------------------------------------------------------------------------------------------
Candy,
Thank you for all the Great Loving Memories in my Heart and the Love and Understanding you gave me and for setting me on this path to meet and offer "In Memory Of Pets" to so many Loving Folks.
" To Live In the Hearts of those Left Behind is to Live Forever ".

" A Poem From Candy "
ENTER
Bless You All, that has come to "In Memory Of Pets " and for your Very Kind Words and Support. May you ALL, find Peace, Help and Comfort in your visit. Be assured, that all Pets go to Heaven and their Special Gift of Love and Understanding is Everlasting